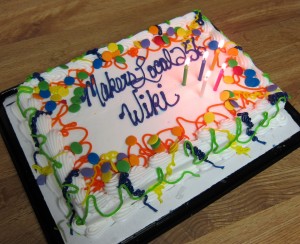 Many members of Makers Local 256 like to come up with crazy ideas. A few also like to write down those crazy ideas and keep track of progress on our wiki. An interesting fact about our wiki though: It predates us having a space, in fact, it predates us even having a name for our organization. (you can find discussion of possible names on our wiki.)[1]
Our wiki instance was installed on July 31 2006. It was originally instantiated to document one person's projects, but was quickly opened up to friends to record their activities. Without knowing it, the shop was starting to follow the Design patterns [2] before actually forming.
Through out it's current run, the wiki's not strayed too far from it's vanilla MediaWiki installation. We've added a handful of extensions to it over time[citation needed], to add in our mass collaboration. We've migrated from a real machine to a virtual machine, from vm host to vm host. We've constructed bots to report on changes, even devised a way of building an ICS compatible feed from content on each of the pages.
Our latest endeavor is to further build upon the Semantic MediaWiki Extensions[3]. We want to make adding and editing projects and events easier and more friendly for our less wiki-adept members.
Here's to another 5 years!