414StevensAve
From Makers Local 256
Mailing Address
Calendar
Planned Organization of Areas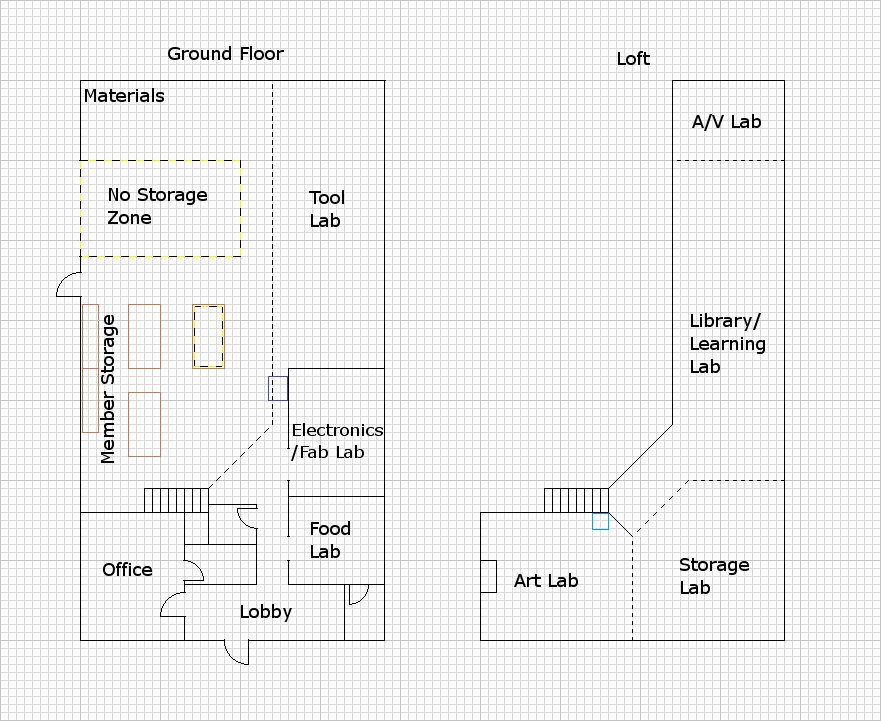 Total Area of 4012 sqft, building is 70'x38'.
Lobby with front door
Dimensions: 6'9"x20'
Large Office
Dimensions: 15'6"x13'
Kitchen
Dimensions: 10'8"x13'3"
Kitchen Hallway
Kitchen Closet
Dimensions: 6'9"xX'
2 Bathrooms
Main Garage Area
Dimensions: 53'4"x24'
Proposed:
Tool Floor
Woodworking Area
Storage
Garage Loft
L-shaped section that sits atop office areas and runs along West and North walls of building.
West Run Above Warehouse
Dimensions: 14' wide
Proposed:
Material Storage - Recommend this be done for small/lightweight stock to simplify material delivery from upper floor storage to work areas on Main Garage Area floor.
North Run Above Offices
Dimensions: 15'6" wide
Proposed:
Art Space
Electronics Lab
Audio/Visual Lab - Else, soundproof a lower floor room.
Storage?
Social Space?
Half-Completed Room Under Loft
Dimensions: 11'x15'
Space Under Loft
Dimensions: Under West run of Garage Loft. 14' wide and ends at South wall of Half-Completed Room Under Loft.
Lit Driveway Area
Garbage Area
East Lawn
Dimensions: All lawn East of shop and South of the building's North Wall, not including parking; ~35'x30'
Proposed:
Garden/Grill/Outdoor Hangout Space
North Lawn
Dimensions: All lawn North of shop, not including parking; ~30'x75'
Proposed:
Garden/Grill/Outdoor Hangout Space
Parking
Proposed: On the property, we can have 10 spaces for large cars in loose formation.
~20'x66' gravel lot for regular parking on North edge of property along Stevens Ave. (reference SouthEast corner of the lot is at the telephone pole in the NorthEast corner of the property). This will grant 5 large car plots in a regular loose formation. The limiting factors are the neighbor's mailbox being on the West edge of the lot and the curvature of the turn for the Stevens-Schiffman intersection East of the lot.
~20'x20' space for regular parking on Eastern edge of property along Schiffman St. There is a fire hydrant East of the NorthEast telephone pole. To provide fire clearances, the ~20'x20' space will need to be directly North of the driveway. This puts it 15' South of the fire hydrant. This grants 2 large car plots in a regular loose formation.
3 regular loose formation spaces on the driveway. To allow for an area for members to work outside, cars ought to park at the end of the driveway. Only issue is that garage door and lit driveway work area is blocked from street access.
Additional parking possible by parking on the roadside bordering the city-owned land North of the shop across Stevens Ave., parking on Stevens Ave. under the highway bridge and parallel parking on the neighbors.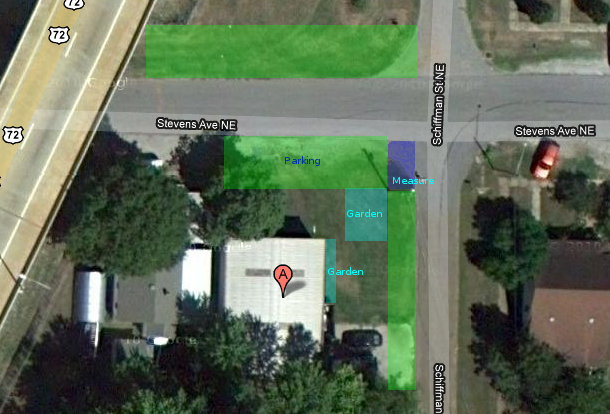 NOTE: Interior parts of the lawn cannot be used as parking due to lack of space for access.
Issues with the Landlord
Insurance Info
TODO
Please refer to We Need To Move Page
Climate Control
Cooling & Heating
The following is cooled and heated by an (assumed) 18,000 BTU window A/C unit running off of 220V (predicted to be able to cool/heat 750-1000 sqft):
Large Office - A/C unit stationed here.
The following areas are cooled/heated by proxy to the above room:
Lobby With Front Door
Kitchen
Kitchen Closet
Kitchen Hallway
2 Bathrooms
All other indoor areas are uncooled/unheated, they are ventilated by a 700 Watt wall vent fan.
Notes: Shop Heating & Cooling
Weatherization
Per landlord, the following areas have walls insulated to R-19 (needs verification):
Large Office - Two tall single-glazed slit windows (~4'x1'), one facing East and the other facing North. One single-glazed observation window (~3'x5') facing to Main Garage Area. Wall aperture (~1.5'x2') for A/C unit facing East.
Lobby With Front Door - One tall single-glazed slit window (~4'x1') facing North, one outside entrance (~7'x4') facing North, weatherstripped.
Kitchen
Kitchen Closet
Kitchen Hallway
2 Bathrooms
All other indoor areas uninsulated. Recommend weatherization of door between Kitchen Hallway and Main Garage Area for insulation and soundproofing. Will prevent heat transfer between conditioned and unconditioned areas.
Security
ADT Alarm System
Cameras
Access Control
Safety
See Facilities Committee Page/Priority List under 'Shop Safety'.
Fire/Disaster/Hazards
Fire Mitigations - ?
Disaster Preparedness - ?
Radon

As of 5/3/11, from discussion with the board, Facilities Director and concerned parties, the following course of action is recommended:

Purchase a radon test kit and perform a self-test. A test is cheap; up to $15 for a test kit and 3 days to 12 months of testing (per here).
Ask for a radon clause on the next lease term for our safety and coverage (none on current lease term). We had one for the 203 Brown St lease stating the building tested as radon safe. A similar one is recommended that would state landlord responsibility for testing and, if needed, mitigations.
Take action as needed based on the radon test results.

The basis of the action is that radon, as a radioactive gas, poses a long-term health risk and that Madison County has a high potential of having dangerous levels of radon (more information from here). To detail, per Madison County Radon Test Results; in the zip code for 414 Stevens Ave 35801, 2225 homes have tested with an average radon level of 6.05 picoCuries of radiation per litre of air (pCi/l). Above 4 pCi/l is the recommended action level by EPA and AL Department of Health. 35.78% of the homes tested are over this limit. Note that building construction affects radon levels. Therefore, a radon test is needed to accurately confirm elevated levels of radon.
Notes: Details on Madison County radon levels and testing and mitigation resources here.

General Hazard Mitigations - ?
Chemical & Material
Tools
Members
See New Member Shop Walkthrough.
Maintenance & Sanitation
See Facilities_Director#Duties
Utilities
Water
Electricity
Cable/Internet/Phone
Operating Costs
Predicted $1110 avg/mo
Observed: Pending
Notes
Lot and room dimensions given in 'N-S'x'E-W' orientation.