Battlebot
From Makers Local 256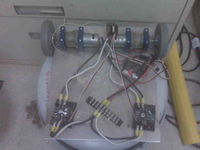 Interested People
(There's also a sign up sheet at the Shop on the corkboard)
Well the first meeting went kind of as expected small turn out with a lot of ideas being thrown around. we have decided to walk before we run by making a small (<12 lb.) bot to start off with. thanks to generous donations from Rick of Huntsville Computing (insert link) we have the basic frame of our first small bot. it consists of 2 Generic 12 volt drill motors with 4" wheels, 2 victor 883 speed controllers and a futaba controller and receiver on a aluminum plate.
I luckly have had some free time and have been able to compleatly re-wire and modify the chassis to allow hard mounting of the components to the base plate for testing and design.
It looks like we will need a charger for the remote control system as well as a new battery for the receiver (4.6v) it wont hold a charge for the charger that i have.
This evening i gave it a funcional check and everything seems to be in working order.
Next on the list
we need to nail down the exact design of the bot we want to build.
Body Shape -Square -Circle -Dome -Pyramid
these will be mainly controlled by the weaponry.
so logically thinking we need to design and test a weapons system.
Please have some ideas drawn up and if you can some sort of prototype or proof of concept ready for Jan 9th meeting.
Meetings
Tentatively having an interest / competition rules meeting for Wednesday Dec 17th, 2008
next meeting Jan. 9th @ 20:00 if there are no objections.
Progress
Preauxphoto has volunteered to be team lead on this project