Difference between revisions of "Facilities Committee Page"
From Makers Local 256
m

m (added ref)

Line 317:
Line 317:
 

* 2/10 - Have installed lights in equipment room.  Need to install last of lights in garage and in the library lounge.  Need an unswitched power supply in the library and a clear path to the garage lights for the last installation.

 

* 2/10 - Have installed lights in equipment room.  Need to install last of lights in garage and in the library lounge.  Need an unswitched power supply in the library and a clear path to the garage lights for the last installation.

 

* 10/10 - CrashCartPro and C-Tzar got the last of the lights installed and repaired.  All is lit up again.

 

* 10/10 - CrashCartPro and C-Tzar got the last of the lights installed and repaired.  All is lit up again.

−

 

+
 
+
 
+
 
 
 

----

 

----
---
Revision as of 13:10, 28 December 2011
Summary
The Facilities Committee helps members with the maintenance, operation, repair, cleaning and management of the shop and its various resources and equipment. Currently under Facilities Director, CrashCart.
Priority Tasks
Regular Tasks
Shop Cleaup & Buildup
Next Scheduled Time Pending
Rules Of Cleaning
Do no harm.
Put like items together:

Trash with trash.
Motors with motors.
3D printer parts with 3D printer.

Now find a home for things:

Will these fit together on a shelf?
Is there room on the shelf?
Can you make room?
Seriously, just put it on the shelf.
Focus:
Complete these at each cleanup:
Controlled Cleaning - Gather what needs to be thrown out from CrashCart, JimShoe, Ratmandu and Tuttle. Break it down and reuse/recycle/trash parts. IF YOU INTEND TO THROW SOMETHING OUT, PASS IT BY THOSE GUYS FIRST.

Clean out lost & found of tools and loose items.
Clean tables top and bottom. MEMBERS: Make your personal boxes ready by storing away your stuff or labeling what is yours.
Label shop tools with 'ML256'.
Clean and organize storeroom. Make the alleyways clear.

Bathroom - Clean bathroom.
Kitchen - Clean up microwaves, utensil area and fridge.
Sweep and Mop Floors
Etc.
Complete one of these as possible at each buildup:
Storage

Build a material rack (per Equipment & Materials Request Page) for the storeroom material corner and put the loose material leaning on the walls away.
Build a shelf for the metals where the metal recycling bins are in the garage.

Usability
Placards
Grounds

Rake and mow lawn - Collect lawn waste for compost for Community Garden Project.
Clear brush from South-West treeline and build picnic area.

Needs mulch, a picnic table and benches.

Prune dead branches and trees from area.

Electrical

Put exposed wires in conduit - Romex counts as conduit, so you only need to remove that which is not used.
Remove wire not being used that is not in conduit.
Inspect for old and damaged wiring. Report to landlord for repair.
Repair and replace burnt-out bulbs and ballasts.

Utility

Reinforce decks of tool shelf. They are beginning to sag. Recommend using 2x2" beam for the job.
Mount air filter in the shop.

Library
Help with infrastructure improvements as listed in:
First Saturday of Every Month, 10am: Dump Day
The Huntsville Landfill at Leeman Ferry Road is open from 8am to noon on every first Saturday of the month. Take our toxic and E-waste to the dump. If Saturday is a holiday, they are open on the following Saturday.

As they only accept household toxic waste, be sure to state you are dumping for a residence. Given that our organization is a hobby shop, we will not be dumping anything beyond household toxic waste. Here is their list of what is acceptable as such. NO radioactive, biological or explosive waste!

Before 11:30am, take our scrap metal for recycling at Tennessee Valley Recycling (Huntsville Division, 606 Triana Blvd, Huntsville, AL 35805, 256-539-0770).

Before throwing, leave some stock for welding and building/forging. Welding stock is any metal piece that is thicker than a Nickle. Building stock is any metal piece that is large and continuous; the larger the piece and the fewer the cuts and holes the better. However, the Aluminum cans may be recycled since they do not work well for forging or welding.
Bee & Wasp Problem, Again
4/17/10 - Found bees are nesting in the cracks and holes of the North wall where it is cool. We will have to take a can of Raid to it again like last time. Also, we ought to seal off all outside cracks and holes on that wall since that is where they tend to nest each year.
11/22/10 - Wasps are in the shop. Apparently, they came in from their nest on the outside of the shop over the summer. Need to kill off the rest. Currently using a buglight, but it has not been successful. Need to try swatting or Raid. Also, as above, need to seal off cracks in North wall before Spring comes.
Shop Heating & Cooling - In Work
Details on Shop Heating & Cooling Page.
Kitchen - In Planning
AliiCat is planning to refurb and setup the kitchen.
4/10 - 220V will be needed for stove, Ratmandu can help. For now, 110V will work for basic appliances; pizza oven, microwave, etc.
11/11 - Oven Installed
Safety Tasks
New Member Shop Walkthrough
Point out locations of/give note to:
Rooms and what they are used for and associated hazards.
Hazard and Safety Placards and Procedures
Location and Types of Safety Gear and their usage.
Location of Material Safety Data Sheets & Manuals for Equipment
Safety Alarms (have them press test buttons so they know what each alarm sounds like):

One Smoke Detector in Kitchen.
One Carbon Monoxide on top of Fridge.

First Aid Kit
Phone Locations, and !alert functionality.

Advise new members to keep a cell phone on them as a backup in case they must call for an emergency.
Let them know about the IRC !alert function.

Fire Escapes and Exit operation
Fire Extinguishers, have them confirm they know how to operate and check condition (full/empty):

Two in Garage Area; on near No-Store Zone and one by entrance to office area.
One in Loft above Garage Area by dirty sink.
One in Kitchen by stove.
One in Office Lounge on top of Server Rack.

Shop Exit Checklist

Check before leaving if you are last. Or if you are leaving someone as the last, tag them.
Toxic/E-Waste and Oil/Petrochemical Waste Disposal Bins and what is accepted.
Recycling (Regular, Special & Scrap Metals) and Garbage and what is accepted.

Clean and dirty sinks.
Cleaning gear.
Show new members how to operate:

Heater/AC
Front Door
Garage Doors
Light Switches indoor and outdoor.

Storage, Equipment & Tool Locations

Show the no-store zone.
State where transient projects are being stationed and what is going on with them.
State what equipment is free use and what equipment requires that you speak to the owner before use due to hazards or special training required (e.g. Ratmandu's welder, Enabrintain's CNC laser cutter, radial arm saw, Korc's wood lathe, etc.)

Whiteboard and Space Usage Etiquette.

Photograph the white board if you want to keep it, do not let your writings stay out more than a week. Others need to use it too.
Store your stuff in only the space of a tote box.
Clean up after yourself. If you must leave something out, please label it thusly.

Kitchen and food rules of thumb for rot.

If food spoils, dispose of it immediately.
Compost pile outside can take food waste.
Equipment & Materials Requests
Please submit equipment requests to the Equipment & Materials Request Page.
Equipment Held/Loaned/Built
One 10 ft stepladder.
Drill Press from Ratmandu for permaloan.
Lockable Chemical Cabinet - Built by Ratmandu.
Rolling Pegboard - Salvaged from old supermarket battery display case.
Recycling
Curbside Recycling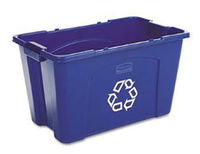 For 414 Stevens Ave: The Blue Bins can be put by the curbside for pickup every Thursday morning along Stevens Ave. along the North side of the property.
Blue Bins in shop are used for the following:
Paper

Regular Paper
Paper Cups & Plates
Juice/Milk Cartons
Cardboard
NOTE: When in doubt, one thing can determine if a paper product is recyclable; tear it to check if you can see pulp fibers. If you cannot, then the paper is embued with a resin that will not allow it to be turned into pulp in the recycling process; such are wax paper and some glossed magazines.
Metals

Cans
Small Metallic Scrap Parts

Plastic
NOTE: You can identify the plastics above by the following; Plastic 1 (PET/PETE), Plastic 2 (HDPE) and Plastic 4 (LDPE) are more pliable than Plastic 6 (PS), but they will still crack and strain a little when bent. Plastic 5 (PP) can easily be identified as the toughest of the plastics. Even after extensive bending, it will spring back into shape with minimal stress marks or breakage. Plastic 3 (V, PVC) can be identified by its unique smell (similar to the smell of a PVC pipe being cut). Plastic 7 (OTHER) would pertain to any plastic that does not fit the above characteristics. Also, it is of note that some foams are not always Styrofoam (PS). Foams made from Plastic 4 (LDPE) and Plastic 5 (PP) are respectively known as Expanded LDPE/HDPE foam (EPE) and Expanded PP foam (EPP). These items need to be recycled in the Blue Bins.
Alkaline Batteries - Must be put in a clear plastic bag beside the Blue Bins on curbside.
Used Motor Oil - Must be put in a clean, clear, sealed plastic container beside the Blue Bins on curbside.
All information from:
Special Recycling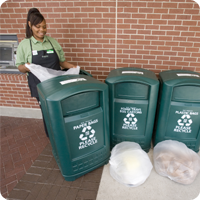 These items are taken to a local Publix supermarket store. They have recycling bins outside their storefronts to accomodate the following:
Plastic Sheet Material

Plastic bags
Plastic Wrap

Brown Paper Material

Brown Paper Bags
Brown Wrapping Paper

PS6 Plastic

Party Cups
Fast-Food Cup Lids & Straws
Some Hard Plastic food containers; sandwich and salad boxes and lids, sauce containers, etc. (check for the "6" symbol in the recycling triangle).
Anything Made of Styrofoam (aka EPS foam; Expanded PolyStyrene foam)

Styrofoam Cups, Bowls and Plates
Styrofoam Takeout Boxes
Styrofoam Insulation
NOTE: You can usually get a feel for what type of plastic a product is by its feel; Plastic 6 (PS) has a very 'crackly' feel when crushed and breaks easily when bent.
Metal Recycling
Tennessee Valley Recyclers will pay you to bring metal to them to be recycled.
Hazardous Waste Waste Disposal
Done per the The Solid Waste Disposal Authority of Huntsville's Household Hazardous Waste Program.
Roles
The facilities committee helps members with the following:
Garbage Disposal & Recycling

Take out garbage once a week - If you have access to a dumpster, please take it with you when you go home. The shop currently does not have dumpster service.
We recycle hard plastic, soft plastic, white and brown paper, cardboard, glass & styrofoam.
Metal Recycling & Toxic & E-Waste Disposal (See Dump Day)
Old Equipment Scrapping, Salvage & Disposal

This task is controlled by the following people. DO NOT throw any equipment or material in the shop away without their permission since members may have been saving/working on it for a project.
The above members will mark items for disposal. They will be broken down and separated into usable parts, recyclables, toxic and e-waste and general trash. Each will be processed accordingly.
If we have electronic items that are still useful, they can be given to Technology Recycling Center at 9540 Madison Blvd, #B. Phone #: (256) 464-7985.
Building Maintenance & Cleaning

Repairs lights and plumbing. Is responsible for getting it done or calling the right services to get a repair done (e.g. landlord, repair service, etc.).
Runs cleanings and notifies shop members so they have ample time to prepare their projects and tables for a cleaning. Preparation could be just either labeling project items, marking out what space not to enter, covering items with a sheet or completely storing the project away.
Manage Shop Equipment Requests
Assists Material & Equipment Storage

Sets up areas and storage systems to store material and gear (e.g. bins, shelves, racks, chests, etc.). Also keeps shop notified of where things go via wiki, labels, e-mail, etc..
Make Sure Shop Is Stocked
Ensure Proper Safety For Shop

Assist in ensuring shop has proper safety equipment, dangerous materials are stored properly, and the right safety measures are used and training provided for members.
Keeps Shop Inventory List
The main source for how stuff is done in the shop is from the 203BrownSt page.
Landlord Responsibilities
UPDATE FOR 414 STEVENS (Note 5/8/11)
Plumbing repair
Electrical wiring repair
Structural repair
Note: Korc is the point of contact for any issues that are the landlord's responsibility.
Notes/Lessons Learned
14-2 Romex w/ Ground is good for 120VAC.
Light Repair - The small lights in the storeroom use F40T8 bipin fluorescent bulbs with 120V electronic ballasts for two bipin F40T8 bulbs. The large lights around the shop use either slimline (single pin) F96T12 bulbs with 120V magnetic ballasts for two slimline F96T12 bulbs or slimline F96T8 bulbs with 120V electronic ballasts for two slimline F96T8 bulbs. The regular Edison Socket fixtures use 65W-equivalent CFLs. Do not use fluorescent bulbs with dimmer switches, they will wear out faster.
Carpentry - Do not use wet wood or pallets for building furniture meant to last and/or hold heavy loads. The wood has been ruined/warped and is of low quality.
To run a club, there needs to be a degree of dedication towards the place; e.g. manage the maintenance and buildup of your place carefully.
In a shop where many projects are being run at once, be mindful of who works on/owns what to avoid conflict.
The best time to run a clean up is not each month, but after every convention; before, everyone is working on projects for the con. Afterwards, they will be done and ready to clean up.
Repair History
10/9/2010 - While resealing the main room's dropped ceiling, it was noted that some of the welds holding up the crane structures for lifting signs were fracturing. The parts that had fractured welds were removed and and remaining welds inspected for integrity. Right now, what is on the ceiling looks good from an initial inspection. However, before one loads the cranes, another inspection is recommended. Also, it was found that the crane on the East side of the main room has the motor end of its shaft unsupported. This crane should not be used until the motor end is substantially supported!
Painting & Cosmetics - 9/29/09 - Closed 12/09 - Landlord hired someone to do cosmetics of the building, including roof and trim. Landlord said he would keep us up to date if there was anything he needed from us.
Lobby AC Leak - Closed 10/09 - During a rainstorm, water was found to be leaking through shop's Northeast window where the AC was installed. It no longer leaks, but deteriorating trim needs repair and sealing.
Shop Toilet & Sewage - Closed as of 10/09. We have been having a problem with the toilet in the shop backing up and overflowing. The old sewer line had stuff running uphill so it would backflow to the toilet. The previous hack to fix it was to insert the Drain King into the sewer pipe near the makeshop (on the lawn near the shop's Southeast corner). Now the line has been dug up and regraded to prevent backflow.
Bees In Outer Northeast Wall - Closed as of 9/09. Took a can of Raid to the opening of the hive, problem solved.
Completed Actions
Main Room A/C Experiment - Done
6/10 - 8/10 - Concluded that the A/Cs we have and tarps are not enough to cool the entire main room. Have begun research into bigger and better solutions.
5/17/10 - Have been having a problem with the current setup tripping the circuit breakers of the main room. The other 12,000 BTU window A/C and the companion and window fans cannot be installed until more power can be provided. Ratmandu said that he can help be rerouting wire from the circuit box to be dedicated to running the cooling equipment. Right now, due to the cooling equipment and table power strips all being on the same power line, it is overloading the breakers. Also, feedback says there is some to no cooling in some areas. Will remedy this by placing fans appropriately to stir air and prevent hot spots from forming.
5/1/10 - Planning to modify window plates to allow venting with an A/C installed. This will be done by putting a hatched vent on the upper side of the plate above the A/C unit in which a box fan can be placed to draw air through. When it is hotter ouitside than inside, the box fan can be removed, the hatch shut and sealed and the box fan then hung in front of the A/C unit to help spread the cold air. Also, korc noted that the 9,000 BTU floor unit on the main room is leaking condensation due to a missing plug on the reservoir. It looks like it can be replaced by a 1/2" rubber stopper.
4/24/10 - Bought a 3-year old 12,000 BTU window A/C unit for the shop. Judging by its comparative size to our current window A/C unit, it appears the '15,000 BTU unit' is really a 10,000 BTU unit. This means we will now only have 22,000 BTUs of cooling in the main room. We will be 6,800 BTUs short of the estimated requirement of 28,800 BTUs for the main room. We could make up for this by neglecting the loft and leaving the 9,000 BTU floor unit in the main room. But for now, continue the test with just the two window A/C units to see how well they perform. As the weather has yet to warm, we currently can't perform a full test of the system. Will need to buy fans for the A/Cs to spread the cold air. Also, JimShoe mentioned that it would be nice to have box fans in the windows if it were cool out. Can redesign the window plate vent louvers to accommodate a small box fan for this purpose. However, need to consider escapability as well. Would it be possible to have a fan that was mounted on a hinge that would let it either hang in front of the window A/C unit to spread cold air or be repositioned in the window plate's louver to provide ventilation. Talked to Ratmandu about insulation. He mentioned that the landlord said the roof was already insulated and the fiberglass insulation seen on the main room's acoustic tiles is really unnecessary (apparently, a lot of things about the building make no sense). Since this is the case, we are already as insulated as we can be. Also, discussed with Ratmandu about the accuracy of the sizing estimates. He said that the placarded room sizes for the A/Cs are usually undersized. The reality is that they can cool larger spaces. However, due to our ceiling being 12 feet high and the condition of our sealing and insulation, we will be using up much of that margin and need to be conservative as possible in our sizing.
4/20/10 - Initial experiments showed that a 15,000 BTU window A/C and 9,000 BTU floor A/C with augmentation fans are insufficient to cool the main room. Main room requires 28,800 BTUs. Currently only have 24,000, leaving us 4,800 short. With the installation of the 10,000 BTU unit and the relocation of the 9,000 BTU unit to the lounge loft (needs 7,200 BTUs, the floor unit can handle), the main room will get 25,000 BTUs. This will leave us 3,800 BTUs short. Further experimentation is needed on a hot day with improved insulation, fans and a dehumidifier to see if the 3,800 BTU gap can be closed with augmentation equipment. Current plate in kitchen window has been replaced with a more secure lock akin to those on the main room windows. Ratmandu mentioned that that plate needed to be sealed better and that it would be better to seal off the kitchen-bathroom door rather than the main room-bathroom door since the latter is blocked and not used. Noted that the some of the doors are oversealed and are stressing when they are closed. Cut down the sealing on these areas. Also, recommended sealing off the gaps in the bathroom to the uncooled parts of the building with plaster, caulk or tape. Spoke to brimstone about how he felt about thermally sealing off the server closet from the main room. He said he would prefer the server closet to be on the cooled side. Therefore, the server closet-kitchen door will be weatherstripped and small vents cut into the server closet-main room wall. It may be necessary to have a vent fan at the top of the closet to help cool of the equipment inside.
4/17/10 - For now, have installed both A/C units on the main floor with their fans. The window unit is where it used to be, but now there is a fan mounted to the window. The floor unit and its fan are back by the HVAC. It exhausts out the intake vent. Sealed off the HVAC vent area, the windows and the main room doors. Those two will be placed on a shelf to help spread the cold air. Sourced an old 10,000 BTU unit on 120 VAC for $100. Will get this one if the experiment shows we need more cooling. To help us further, a dehumidifier would also help. Alabama State government is giving a $25.00 rebate for purchasing Energy Star rated A/C units for residences. We ought to take advantage by having a member purchase it and donate to the shop. Will later move the floor unit to the loft lounge (per the plan below) and how that effects the cooling of the main room & lounge areas. Will also replace and reinsulate missing and broken ceiling tiles. Also, need to make a better window board on kitchen. Last setup was temporary for the short timeframe.
4/16/10 - Materials and Procedure for Install:

Will need foam sheeting, pipe insulation, weatherstripping, sealing foam, screens, ducting and duct tape. Hinges, hook and eye and boards for the vent, window and plate louvers. Will also need Ratmandu's advice on 220V AC for the large A/C unit needing repair.

Place floor unit and augmentation fan (the vertical one with two units) in lounge loft.
Remove kitchen ducting and redirect to loft.
Pass floor unit exhaust to kitchen. Expand hole as necessary. Make it reach the window.
Remove A/C and install window plate (from main room window plate) with rain-guarded vent (angle downward or chamfer and cover with screen to prevent wildlife intrusion). Plate will ultimately have an kitchen vent fan installed for the planned stove and cooking area and to provide cooling.
Seal off kitchen to main room door with weatherstripping and pipe insulation on the bottom. <- Will need more than just this; there is a lot more to seal between the main room and kitchen/bathroom/shower/server closet than just the door.
Prepare window plates. Take the first one and remove the A/C plate and cut out a louver at the top (in anticipation of needing to install another A/C in the other window plate and hence blocking it from opening for ventilation). Reinstall plate with hinges and lock with a hook and eye. Make a sill with wood strips. Also, put up hooks to hang the steel floor fan in front of the A/C's vent. Insulate the edges with pipe foam and sheet the inside with foam. Test fit to window frame, A/C and fan and trim insulation accordingly.
Install window plate, A/C and fan to window.
Take the second window plate and insulate the edges with pipe foam and sheet with inside with foam. Test fit to window frame and trim insulation accordingly.
Put in foam sheeting to the gaps in the ceiling's insulation. Cut the sheets to the sizes of the ceiling tiles and drop them into the tile frames.
Check the room for any remaining gaps and seal. If the A/Cs draw in fresh air from the outside, then seal off the intake valve near the bottom of the furnace. Put up a screen on it to prevent wildlife intrusion.
Close tarps and doors and turn on two A/Cs and their fans and see how cold it gets (thermometer near garage-main room door).

If there is not sufficient cooling, look to install another unit and more fans. Also, improve the insulation and leak seals as necessary.
Additional Items:

Install the kitchen exhaust fan. Make sure it can vent smells from kitchen and provide cooling for kitchen and server closet (what does brimstone need?).
As the HVAC has no A/C, it will only be used as a fan. Strages noted a leak in the ducting near the unit. It will need to be repaired to make it more effective at fanning.
Do the library ducting noted below.

4/10 - In preparation for the upcoming summer months, Strages stated that we needed to have cooling in the working areas in the shop. He proposed to install the window A/C unit from the kitchen to one of the main room windows and have the floor A/C unit mounted in the loft lounge. Its exhaust would be vented by piping (already available in the shop) through the vent hole through the loft lounge floor to the kitchen window. The cold air would come down from the loft area to help cool the main floor and the window unit would help with general cooling. The tarps would also be closed and cracks in the walls and windows sealed to retain the cool air. Also, there will be need to have fans and/or ventilation to the library loft to keep it cool as well. Right now, an extension to the current vent will pipe air over to the library. There is also a large window A/C unit in the equipment room that runs on 250V. Will need to plug it in and check it out. If it's working, it can be repaired and installed in the other main room window. Noted that there are old copper pipes running from the HVAC to the concrete by the rollup door. Apparently, there was an old A/C radiator unit set up there back when the shop's previous occupants installed cooling.

Areas to Cool (at 24 BTUs to cool 1 sqft):

Main Room, 30' x 40', 28,800 BTUs
Lounge Loft, ~30' x 10', 7,200 BTUs
Library Loft, ~20' x 10', 4,800 BTUs

Cooling Equipment:

15,000 BTU/hr. unit - Currently in kitchen window
9,000 BTU/hr. Floor Unit - On main floor
Unit Needing Repair - BTU/hr. rating unknown, assumed to be 15,000 BTU/hr since it is of a similar size to the window unit in the kitchen - In Equipment Room

Operating Cost: Typically 0.5 cents/BTU/month for continuous operation. Therefore running both units at a total of 24,000 BTU will cost $120/mo. However, we will not always be running them 24/7.
To help with cold air dispersion to make the cooling more effective over a larger area, it would help to have fans mounted in front of the A/C units to blow the cool air around or have them on the floor to stir the air. We have a box fan and two floor fan for this.
In the meanwhile, to cool off and vent the kitchen, a window fan unit can be installed. There is an old grill fan from a car (looks like 12VDC). It will need a power supply and a fitting to the window.
If this experiment shows we need more cooling, we can either repair the old one mentioned above or try getting a used one from a store's 'scratch and dent' pile. Also, it would help to replace the hole in the insulation in the ceiling area.
The alternative to this would be to open the windows and draw air with shop or box fans. However, it would only work best when it is cool outside.

Due to the window units being planned to occupy both the windows, we will need some kind of louvered vent on them so they may still be opened for venting. Perhaps a simple wooden plate and a hinge and hook lock.

Another consideration is escapability; the plywood window boards still need to be able to unlock and be punched out even with the A/C units attached.
Shop Lights - Complete
We have been having lights flicker or not turn on. This needs either the replacement of the lights or the ballasts. Being worked by Spacefelix
8/09 - Have tested out which ballasts and lights are working, now we need to buy new lights and ballasts of the right type (for the main shop lights, 8ft, 1.5" diameter fluorescent lights are used with a F96T12 ballast for 2 lamps). Replacement parts for the smaller storeroom lights are being searched. Currently planning to be done by 8/29 (project currently in overtime due to learning curve on electrical work and fluorescent lights).
9/09-10/09 - Have already obtained a 10' freestanding A-frame ladder for the shop. The smaller storeroom lights are 4ft, 1.5" diameter lights (F40T12). To improve shop energy efficiency, will phase out magnetic ballasts and T12 tubes with electronic ballasts and T8 tubes (1" diameter). The latter consumes half the power of the former for the same amount of lumens produced. This phase-out will occur as T12 tubes and magnetic ballasts need replacement. Will complete the following by 11/14:

Figure out wiring scheme for electronic ballasts in old light fixtures.
Replace a burnt out ballast in the storeroom with an electronic ballast and two F40T8 tubes.
Install three sets of electronic ballasts with two F96T8 tubes each; two sets in the garage area, one set in the back room.
Remove all burnt out ballasts from all unused and broken light fixtures. Will also cap off and insulate all live wires.

12/09 - Will install F96T8 ballasts and F96T8 slimline (single-pin) fluorescent bulbs in the garage and equipment room.
1/10 - Have successfully installed two lights in garage. The next four lights (two in equipment room and two more in garage) ought to go quickly.
2/10 - Have installed lights in equipment room. Need to install last of lights in garage and in the library lounge. Need an unswitched power supply in the library and a clear path to the garage lights for the last installation.
10/10 - CrashCartPro and C-Tzar got the last of the lights installed and repaired. All is lit up again.
Reference
---