User:Enabrintain
From Makers Local 256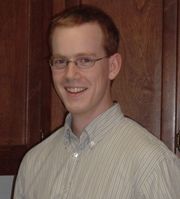 Calendar
My experience
bachelors in CS
electrician training at drake
programming (10+ years of Java, less of C/C++, .Net, Ada)
wood working (mostly small projects)
Pewtercasting
Homebrewing (beer/mead)
setting dumpsters on fire
Active Projects
I'm switching the 4x8 CNC Machine from the original belts in the y axis to chain.
I'm getting a donated pottery kiln up and working.
I'm making clay for the ceramic crucible.
I'm making a form for the ceramic crucible.
Projects
Skill badges designed by Adafruit.com
Contact Info
I am Phil Showers
enabrintain@yahoo.com
phillip.showers@gmail.com
256-520-3394
IRC: EnabrinTain, Tain, etc...
Other Things