Chainmail Class Number 5
From Makers Local 256
Basic Event Information
Name: ChainMail Class
Organizer\POC:

Teacher: Jessica Garcia
Logistics: Jeff Cotten

Date: February 25, 2013
Time: 7:00 PM
Location: Make Shop
Cost to Attend: $15
Calendar
February 25, 2013, 7:00pm - 9:00pm: Byzantine Bracelet
Description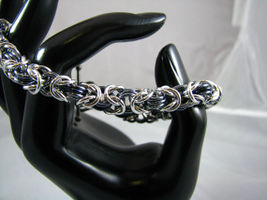 Jessica Garcia is a local chainmail artist who has previously taught four introductory courses on making chainmail to the community via Makers Local 256.
This class will teach how to create a bracelet using the byzantine pattern.
The cost of the class is above and includes materials, though YOU WILL NEED two flat nosed pliers for tools. You do not want pliers that have teeth, the teeth will mar the rings. You can pick these up at Jo-Anns for about $10 each.
RSVP / Coming
Use Facebook Page here: TBD
Volunteers
Advertisement
Advertised To
Not Yet Advertised To
General E-Mail List
Livejournal Huntsville Community
Makers Local Web Page