Slim Aluminum Wallet
From Makers Local 256
Creator:
tylercrumpton
Status:
Tweaking and testing initial design
Born On:
00:08, 6 April 2014 (CDT)
Last Updated:
23:08, 05 April 2014 (CDT)
Overview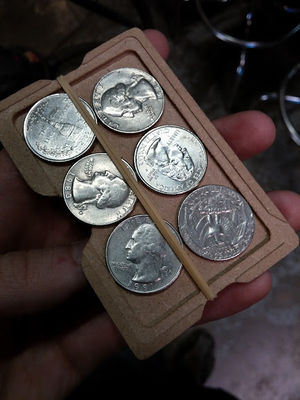 After seeing the Lumi™ wallet on Kickstarter, I figured that a similar aluminum wallet would be a great learning piece for the X6-1500GT CNC Router/Mill. Custom modifications could be made to the design to account for different needs, and the amount of material needed would be cheap enough to be a great first cut for anyone learning the machine.
Description
The general idea of the wallet is that there is a small storage "pocket" that is covered by a plastic bank or ID card. A band or clip hold the card to the wallet frame, keeping the change, keys, SD card, etc. securely inside the wallet. A small finger-cutout helps with the removal of the top card as well as the objects inside the pocket.
Ideas
Below is a list of ideas for modifications and features of the design:
Custom engraved designs and text on the back of the wallet or inside the pocket
Specialized pocket compartment shapes for certain items (quarter shape, SD card shape, etc)
Money-clip style holder instead of a band for holding cards to the frame
Different materials like wood or plastic
Pocket on both sides (adds to the thickness, though)
Parameterized dimensions and features for easy configurability.
Cost
On SpeedyMetals, 3 pieces of 1/8"-thick 12" x 2.5" 6061 aluminum bar costs about $22 after shipping. That would be able to make nine wallets for a cost of about $2.50 for each wallet.
Scrap or reclaimed aluminum may also be used to save on cost, or just for that added "green" bonus.
Design
When completed the design and related modifications will be posted here.