Application
From Makers Local 256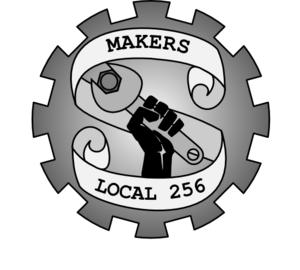 Makers Local 256: Membership Application
Name: __________________________________________________

Phone Number: ___________________________________________

Emergency Contact Name: ________________________________

Emergency Contact Phone: _______________________________

Desired Username for Computer Accounts: ________________

Amount you can pledge per month: _______________________

Email address: _________________________________________

Do you wish to be added to the General Email List: _____

A member of the Makers Local 256 finance committee will approach you via email once a month to request your pledged donation.

You understand that the Makers Local 256 is a place where people will come to work on projects, and that some of the tools used in these projects are powered, and dangerous. You are expected to wear safety equipment at all times. If appropriate safety equipment is not available, you are not to use the power tools. You are not to use the powertools unless another person is present and able to call for help. No powertools are to be used indoors. Home made bladed powertools are not allowed at the shop. You understand that there is no public phone available at the Makers Local 256 Shop. You understand that if you get hurt and no one is available to work a phone, then there is no phone available to place calls with. By entering the premises you assure that you are familiar with power tools and are capable of deciding whether you should be in their presence while they are in operation. In the event of a power tool accident, Makers Local 256 will not be held accountable for your safety.
I understand that I and I alone am responsible for the safety of any guest I bring to the make shop.

Signature: ____________________________________

Date: ______________________________________