Kitchen Computer
From Makers Local 256
Creator:
Jeff Cotten
Status:
Completed
Born On:
08:43, 16 January 2020 (CST)
Last Updated:
08:48, 28 March 2021 (CDT)
Overview
A touch interactive kitchen computer for displaying recipes, watching cooking tutorials, and managing shopping lists.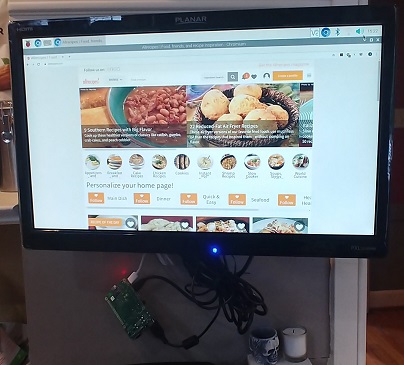 Click This Link to See Larger Picture
Hardware
Raspberry Pi 4 (Also needed: Micro HDMI to Regular HDMI, and a 2.5A USB-C Power Supply. A Yellow lightning bolt will appear on the screen if you selected an under powered supply.
Raspberry Pi Case
SD Card
Articulating wall mounted monitor arm

One came with our house, but you can buy them on On Amazon

Microphone \ Speakers
Keyboard and mouse for initial setup
Stretch Goal Hardware
Wifi Camera pointing down over oven range
A camera that can attach to the front of the oven and look inside. After market cameras that go inside an oven are prohibitively expensive.
Operating System Candidates
LineageOS (Android): https://konstakang.com/devices/rpi4/LineageOS16.0/

Note, do not follow instructions telling you to wipe after installing gapps. This will cause the lineageOS to startup in a mode that pops up the unregistered device notification that can't be closed, preventing you from getting to terminal and running the command to retrieve the GSFAID.

Raspian
Software
OS: Raspbian (A Linux Distro tailored for the RaspberryPi hardware)
Usability
Configuration
Via terminal, created multiple users in case someone wanted to login to their recipe\gmail\etc accounts.
Set Appearance Settings to "Very Large." We want it in this mode to make buttons easier to click with finger.
Added an icon to bring up Matchbox-Keyboard to top bar. Currently you have to touch this icon each time you want to use the on screen keyboard, it does not come up automatically when you select a text field, like it does in Windows or Android.

Improvement Idea: Rasbian might not have been made with touch interface in mind, but another distro like Linux might auto bring up the keyboard. This user experience improvement would be worth evaluating a different linux based OS.
Software
Install Matchbox-Keyboard

sudo apt-get install matchbox-keyboard
On Rasbpian Desktop Toolbar, add keyboard application

VNC Server (for remote maintenance without having to stand in the kitchen)
Created Desktop Icon for a shell script that will quickly open the Appearance Settings configuration panel. Sometimes after reboot the display reverts to normal.
Chromium web browser (comes installed with Rasbpian)

Recipe Saver (Free version lets you save up to 50 recipes, paid version is an unreasonable $9 a month. I would rather Save a webpage to PDF (which Rasbian can do) than pay $9 a month).
Print to PDF Capability (Comes with Rasbian) for saving recipes locally.
Webpage Based Cooking Tools
Allrecipes
Gmail for emailing yourself links ( we have ours logged into a shared account so that visitors can't access our personal accounts ).
Link to GoogleKeep (or any webpage) on desktop: https://www.raspberrypi.org/forums/viewtopic.php?t=171128

Follow these steps to remove the annoying "are you sure" when you click it

File manager
Edit
Preferences
General
Do not ask option on executable launch
YouTube for cooking tutorials
Other Tools
Balera-Etcher for flashing Rasbpian image to SD Card
SD Card reader
Commercial Products
Products that offer similar experiences
GE Kitchen Hub (available for kitcen hood and microwave). Expensive, over $800
Alternative Approaches