Kraken
From Makers Local 256
Kraken3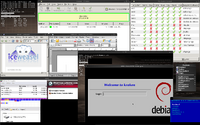 Development started Feb 27, 2009 when I got the bright idea to just try to boot a bootstrapped directory.
Current features
Full 2.6.30-2 kernel
686, AMD64 support if needed
Firefox
flashplugin
Thunderbird + Lightning extension + Enigmail
Openoffice.org 3
Qemu
K3b
Imagemagick
Fluxbox
Awesome
Conky
Pidgin + OTR extension
Gparted with full fat*, ext* and ntfs support
openvpn
sshfs
zsh
subversion client
screen
rdesktop
tightvnc
nVidia drivers (could add fglrx, if I had a card to test)
USB, CD, PXE versions
TODO
auto mounter
desktop icons
cmdline options

dhcp
static ip
alternative usb image path

cron
persistent file support
fglrx
Status
USB
Kraken2
This was a fairly short lived version. Basically, it used the debian kernel and a lot of the binaries with basic dependency resolving and hardware detection support. Kraken2 was developed for a week or so. Development pretty much stopped at the beginnings of a package manager.
Kraken1
Live cd, built from scratch for optimal size and speed (ricer mentality I know, but here it counts). All in all, it's running reasonable with no X server, but for all the extra fun enhancements, it looks like X needs to be loaded somehow.
Features
kernel
openmosix

2.6.17-om1

builds
rumored unstable with openmosix
userland tools don't work
leaning towards this right now

it's already built to my liking
2.4.27 has problems on some machines
i'm not going to be clustering this that much anyway
Waldo/Guerilla filesystem will work here just as well as 2.4

2.4.27-om1

already compiled, meaning not as small as it could be
ancient
userland tools work

openssi

2.6.10

hard to find
working with 2.6 and openssi
hard to get working

very strange proc issues
lots of userland tools need to be compiled with libcluster support
overall, lots to deal with
basic system
busybox

used for majority of tools
build by hand
has almost everything needed
ssh/scp/sshd
dropbear

for ssh and friends
currently a static multicall binary
dependent on uclibc, glibc is already present due to busybox
doesn't support dynamic proxies

openssh
browser
links

using version 2 for fb graphics
blue screens (literally) on exit

firefox

bigger
requires X
more complient
windows compatibility
qemu

not fully tested
not friendly with vga=791

wine

dependent on X
don't need to login to the system to use the apps installed locally
window manager
something small and quick

fluxbox?
joe's wm
anything else?

ratpoison?
xmonad? (personal favorite) Jmcarthur 09:40, 29 July 2009 (CDT)
misc tools
installed

nc thanks to busybox
nmap
tcpdump
ngrep
ntfs-3g

planned installed

scanrand

doesn't seem to go once started
background
it's perfect.
Current Sizes
Kernel(2.6): 1.4MB
Initramfs: 9.7MB
Memory: 24MB
Status
Current rev 0.2.0b stuck on font issue for 0.3.0b
0.3.0b
main

hostname set at bootloader
rdate run after network, specified at boot
update fluxbox to the nice pseudo transparent one
0.2.0b
packages

firefox (done)
vncviewer (done, added to base)
rdesktop (done, added to base)

main

sshd (done)

shared public keys (done)

boot menu

pretty logo (working on vesamenu.c32)
no x (done)
no network (done)
packages (done)
unionfs home directory usb thinger booya

fluxbox time format (done)
ntfs password app (done)
0.0.1b
Currently, Kraken is a 11MB live cd, working elements include:
busybox
2.6.17-om (however the openmosix side of things is disabled)
bash
openssh
Xvesa
links2
fluxbox
0.0.1b: a7ccb2456ef028a6b6f49f4f52f3648e https://the.narro.ws/~brimstone/kraken/kraken-0.0.1b.iso
Released: March 30, 2007